This book and journal are also included in our Spiritual Awakening Bundle!
Note: You'll receive digital/printable PDF files of this book and journal – you won't receive paperback copies, and nothing will be sent to you in the mail. In other words, you'll get quick access to everything after purchase!
Learn how to befriend your dark side, heal trauma, find joy, and integrate your shadow work into the ancient chakra system in this powerful Shadow Work Duo. You'll receive a full-length book and a vibrant journal!
Here are the details:
Mindful Shadow Work: Exercises For Befriending Your Dark Side, Healing Trauma, and Finding Joy (eBook)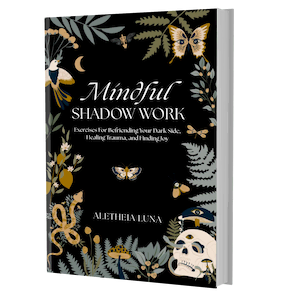 We all have a shadow self. As uncomfortable as it may sound, every human being has a dark side that has been shunned, rejected, suppressed, and buried within the unconscious.
However, disowning the shadow for too long can be dangerous, sabotaging our lives in every possible way. When we don't face our inner darkness, problems with anger, addiction, chronic anxiety, depression, shame, hypocrisy, deceit, chaotic relationships, sexual dysfunction, self-loathing, and many other issues slowly consume our lives.
In this uniquely deep and compassionate book, spiritual educator and guide Aletheia Luna leads you through the dark forests and hidden caverns of your shadow self. By learning how to befriend your shadows through the power of mindful shadow work, you can dissolve the shame, secrecy, and energetic density of these inner blockages.
Through the eyes of gentleness and lovingkindness, Luna teaches you not only how to uncover your shadows but also how to find their hidden lessons, recover their gifts, and transmute them so that you are free of the trauma they bear, reclaiming the joy that is your inherent birthright.
Note: This book contains revised and expanded content originally published on lonerwolf.com, as well as new and in-depth shadow work exercises and guidance.
Shakra Journal: 70+ Chakra Shadow Work Prompts For Embodied Healing (Digital & Printable Journal)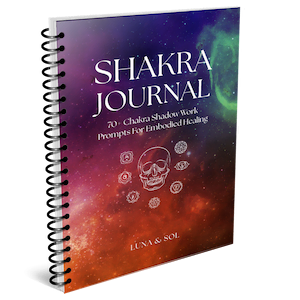 Within all of us, there is the capacity for great kindness, generosity, compassion, and wisdom. But although we all have the seeds of deep love inside our hearts, we also carry the potential for tremendous hatred, violence, rage, and perversion.
The reality is that no matter how sweet, kind, nice, or good we may appear to be on the surface, we all have a dark side. Exploring that dark side by learning to understand, befriend, and integrate it truly is an essential task for every human being.
This journal not only works with the shadow but also offers a unique approach to shadow work by integrating it into the deeply embodied framework of the chakra system.
Combining the chakra system and shadow work is a powerful practice because it unites east and west, body and mind, heart and soul. Not only does the chakra system give us a beautiful and ancient framework for exploring our shadows, but it also gives us practices that can embrace, heal, and transmute these unexplored parts of ourselves.
Note: This journal contains revised and expanded content originally published on lonerwolf.com, as well as new and in-depth shadow work prompts and guidance.
Benefits of Chakra Shadow Work:
Clear out stagnant, stuck, or blocked energy and experience more inner peace, harmony, and joy
Find true self-love and acceptance
Befriend your wounded inner child
Improve your relationships
Become more grounded and set clear boundaries
Deepen your spiritual awakening and inner work practice
Anchor yourself into an ancient, embodied, and integrated framework for inner work
Reconnect with your inner source of love and wisdom
Warning
Shadow work is inherently deep, revealing, and often confronting. If you suffer from low self-esteem or self-loathing tendencies, please ensure that you have developed a good foundation of self-love first. Shadow work practiced without the capacity to show self-love is destructive, as it can make you feel a thousand times worse about yourself. So please cultivate the ability to practice self-love and care before doing any form of shadow work.
Furthermore, if you suffer from any psychiatric condition, please seek the guidance of your mental health professional before engaging with this book, as the material may be too intense or potentially re-traumatizing. As always, please approach any form of deep inner work slowly, gently, and with mindful self-compassion.
Book & Journal Details:
Book Pages: 284 (epub) 167 (pdf)
Journal Pages: 130 (digital), 154 (printable PDF)
Language: English
Book Format:
PDF (can be printed out or read on your phone, tablet, or computer)

PDF with blank pages removed

epub (can be read on Kindle eReader, Kobo, Nook eReaders, etc., or on any eReader app)
Journal Format:
PDF printable version (formatted for home or professional printing)
PDF interactive/editable digital version (available to use on your PC, tablet, or phone)
Print Versions:
If you would like to purchase the paperback version of the Mindful Shadow Work book, please click here. You can find the paperback version of the Shakra Journal right here. Please keep in mind that by purchasing the book and journal here, you'll be directly supporting our work. You'll also receive different formats (such as editable and printable PDFs and ePub versions) as well as all future updated versions for free.
FAQ
What happens after I have paid?
Once you have paid via credit card or Paypal, you'll be sent all the juicy details for accessing the book and journal to your email. If you can't find the email, please check your spam, junk, or 'promotions' folder. If you still can't find the email, please contact the Luna & Sol team here.
Should I start with your Shadow Work book or Shakra Journal first?
It doesn't matter what order you choose. Both are beginner-friendly, so listen to which one calls you first. 🙂
Is this book and journal digital or print?
You'll receive digital/printable PDF files of this book and journal – you won't receive paperback copies, and nothing will be sent to you in the mail. In other words, you'll get quick access to everything after purchase!
As digital and printable files, you can choose to work through the content on your phone, iPad, Tablet, or desktop computer – and you can also print everything out if you prefer a hard copy. The benefit of receiving printable files is that you can print them out as many times as you want or need (for personal use only), making them a good investment. Simply print this resource at home or go to your local printers and ask them to print and bind this book and journal for you.
If you're still interested in getting a paperback version of this book, you can purchase one from Amazon and a paperback version of the journal here.
What currency is the price?
All prices are in USD.
I have downloaded the files, but they're not opening.
There are a few things you can do: (1) ensure that you have the latest version of Foxit PDF Reader, available at https://www.foxitsoftware.com/pdf-reader/, and (2) download the files again using the link that was emailed to you. (3) If you still have issues, please contact us. Most mobiles, tablets, and computers already have inbuilt PDF readers, so if you're still having an issue, check to see if the software is up to date, or alternatively, download Foxit PDF Reader.
How do I protect my journal from being read by prying eyes?
We recommend storing the digital version of your journal on a password-protected storage site like Google Drive (which you can sign up for and access for free). If you use a shared computer, please ensure that you log out of your account after finishing. If you decide to print out the journal, we encourage you to find a safe and secure place for it – however, if you're looking for guaranteed privacy, we recommend using the digital version. If privacy isn't a huge issue for you, then feel free to use any version of this journal that you prefer (or both).
How do I read the eBook on my Kindle/eReader?
You can upload the ePub files directly to your Kindle (via your USB cable) or use an eBook management library such as Calibre eBook Management. With other eReaders (such as Kobo and Nook eReaders), you can generally drag and drop the file directly into the eReader after plugging it into your laptop/computer.
What if I don't have an eReader?
No dramas! The book comes in PDF format, so you can easily open and read it on your laptop, tablet, or phone anywhere.
I can't find the email with the details about downloading my book.
Please check your spam, junk, or 'promotions' folder. If you still can't find the email, please contact us.
Is there an audio version of the book?
Unfortunately, no. But here's a little life hack we've learned: on your eReader app (if you don't have one, go to the Google Play store on your phone or tablet and search for "eReader app"), there's usually a text-to-speech option. This allows you to listen to the book and convert it into an audiobook automatically!
Do you offer refunds?
Due to the digital nature of this content, there are no refunds. If you have questions before purchasing, please reach out to support.
***
+ 10% GST for Australians