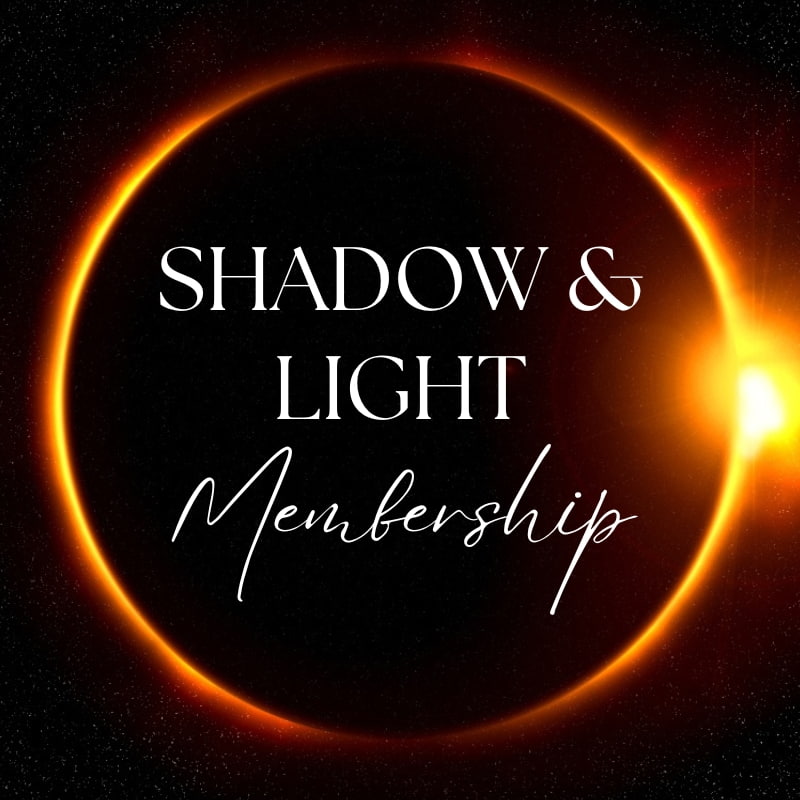 5 out of 5 stars (based on 23 reviews)
I have been using this website for a few years now and it has been immensely insightful. It's not been long that I registered myself for the Light and Shadow membership and it is really helping me on my spiritual path. The words in the messages are to-the-point and yet warm and caring. The journal prompts are brilliant. I would certainly recommend this content for anyone who is devoted to their spiritual path.
I am on a spiritual journey but struggled after coming out of a 27 year abusive relationship. The Shadow and Light membership has helped me to understand myself better. I am rubbish at journaling but the prompts here really help. For such a small price, Shadow and Light is helping me enormously on my healing journey.
The course is so easy to follow along to but be warned… some of the topics and journal prompts are tough as it forces you to be truly honest with yourself. Definitely worth the work though as you get clarity about your life, who you are and you can use these to understand things better and heal.
Response from LonerWolf Shop
Honesty is at the core of this journey together, so thank you for the friendly warning. Much love to you, Leandri! ♡
Aletheia & Mateo bring light to the deeper questions to help us explore ideas and concepts that are not easily discussed within our culture. Having questions to work through allows me to understand my circumstances better as to why the external is not matching my internal reality. I appreciate the support and am grateful that I am apart of this group at this time.
Response from LonerWolf Shop
Thank you for being here with us, Dani ♡
Love the weekly guidance. The weekly journal prompts really help when you have no motivation, as well as while you are going through a Dark Night of the Soul it isn't overwhelming and you have a week to reflect. This site overall has helped me through some seriously difficult times! Thank you!
Response from LonerWolf Shop
Thank you Lauren ♡
I thoroughly enjoy your weekly topics which are filled with your experiences & wisdom gained, which resonates deeply with me.
This weeks 'integrity & inner truth' for me is the essence of why we are here & what our soul is pushing us forward to embrace.
Thank you both for sharing your teachings/guidance wisdom & support.
Response from LonerWolf Shop
Thank you for these kind words, James. With gratitude ♡
I Enjoy your writing.
I apreciate, info of why and what cause exp soul-lost, and what other term being used from psychiatry, and also your caring guidance that warn and advice, where to begin.
Response from LonerWolf Shop
Thanks Frederlk ♡
I love the weekly mantra and the writing prompts are great to find things out about yourself. And i try to remember the weekly word and use it though out the week.
Response from LonerWolf Shop
Thanks Ann ♡
I love it! I love getting my emails on Sundays. I always use the prompts, even if I find I can't relate to them , I can actually always find something in there if I really think about it. I love the prayers and spiritual guidance.
Response from LonerWolf Shop
This is inspiring! Thank you Stephanie ♡
I am so glad that I purchased this wonderful subscription! It has highlighted clearly the areas of my life that need attention, and the journal prompts are really helpful. Thank you Luna and Sol for providing such a beautiful service, you both are helping many people grow ♥️✨
Response from LonerWolf Shop
Powerful, thank you Sarah ❤️
P.s. The Shadow & Light membership also includes a safe space to share comments and to engage with a group of like minded people which is very much appreciated!
Shadow & Light is a weekly guidance membership that consists of spiritual guidance, journaling prompts and a beautiful prayer pertaining the intuitive keywords for the week. Receiving these messages is a beacon of light and hope for me in currently very challenging times. Like the words of wisdom speak right to my soul, guide and encourage me further on my path, working with the journaling prompts gently unravel unconscious blockages and sources of despair. I love and appreciate the down to earth approach to spirituality honouring both shadow and light as part of the soul's evolution. I highly recommend Shadow & Light to everyone who seeks to develop and cultivate a relationship with the Inner Self and everyone on the journey to understanding the soul's desire for evolution. Thank you so much, Luna&Sol for your ongoing support through your words that are much more than words to me!
Response from LonerWolf Shop
Thank you so much, Karin! Much love and gratitude ❤️‍🔥
Beautifully written and incredibly insightful.
I look forward to reading your guidance and Lonerwolf articles every week. They have helped me during the darkest times of my life. I don't think I would be where I currently am without what you've shared.
I can't thank you enough!
Response from LonerWolf Shop
Thank you sincerely, Val 💜
I need these little reminders, they make my day
Response from LonerWolf Shop
So happy to hear this, Brianna 😊
I have followed Lun & Sol for a number of years, and have come to rely upon their weekly guidance for inspiration and insight. I don't know how they do it, but I can't tell you the number of times that the guidance has been so incredibly spot-on, or told me the exact thing I needed to know or hear with prompts on how to address it going forward. Not only do I gain some insight, I benefit from their wisdom. It is humbling and wonderful to be part of their experience. Thank for sharing this even with us who are half way around the globe.
Response from LonerWolf Shop
Thank you kindly, Cassie. It's a joy to be part of your journey and experience 💗
A very comforting and supportive space that I am finding very helpful. The group is lovely and caring, with kind comments and the ability to be honest. This is far better than any self help or therapy for me personally as I am amongst people with similar thoughts and feelings just trying to do our best.
This obviously came to me when I needed it, thank you.
Response from LonerWolf Shop
Thank you so much for sharing this Theresa ❤️
Shadow and Light's weekly guidance always rings true to my heart. I love the pithy wisdom in each post, the journal prompts, and written prayer at the end. While short and sweet, each weekly email allows me to ground and focus on where I'm at. It also gives me insight on where I want to go, and how to open myself up spiritually to move forward. Thanks for acknowledging my shadows and inviting my inner light. I always get excited to open the Shadow and light emails on Sunday!
Response from LonerWolf Shop
We're so happy to hear that you're loving Shadow & Light, Angela, and that you get excited to receive the emails each Sunday! Thank you for leaving this review 🤗
I enjoy reading your articles
Response from LonerWolf Shop
Thanks James ❤️
Thank you, thank you. Your inspiration/guidance comes at just the right time! I feel that my spirit is preparing for the answers to the questions of my heart – and then – VIOLA – Shadow and Light appears in my inbox! Your guidance has informed my work as a therapist as well! Thank you and abundant blessing to you both!
Response from LonerWolf Shop
Wow, thank you so much Narda. It's an honor and joy to be of service to you and your work! 💜